Back
Expressing Grief, One Brush Stroke at a Time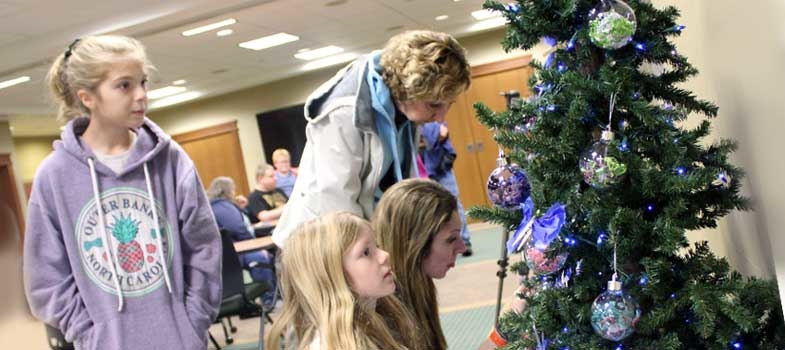 I liked that I was around other kids who lost a loved one," shared Katie, an 11-year-old Coping Kids & Teens past participant. "We got to make crafts to remind us of the people we lost," shared Avery, an eight-year-old, who also participated in Coping Kids & Teens. Katie and Avery are sisters who lost their father unexpectedly in March 2017. At the time, Katie was eight and Avery was only five.
"Shortly after my husband passed away, I was nervous and apprehensive about what to discuss with the girls and how much information to give them," shared their mother, Joan. "His death was sudden and unexpected and I was faced with many things to explain. I didn't know how to appropriately answer their questions and relay the information; I would tiptoe around the subject." A friend of Joan's recommended that she reach out to the Pathways Center for Grief & Loss to find out as much information as she could about children and grief. "I spoke with [the Pathways Director,] Patti [Anewalt], and found her to be extremely helpful and her insight to be eye-opening," commented Joan. "She was a great resource—helping me navigate how to tell the girls and suggesting things that we could do together to cope."
Patti shared with Joan to be open and honest and to give Katie and Avery age appropriate advice. She advised her to tell them enough to answer their questions, but not so much as to worry or scare them. "There were no rule books or guidelines, everything was different," shared Joan.
"Sometimes when parents are not honest with children they find out through others (overheard conversations, searching the Internet or being told by someone else) and this leaves the child feeling left out and therefore resentful that they were not told," shared Patti. "Also, children's imaginations are often worse than reality so if they are not given adequate information they will 'fill in the gaps' with their own assumptions or guesses that may be completely off base. By being honest and open with children, even if the parents don't have all of the answers, conveys that they want the child to come to them whenever they have questions."
Joan and her daughters continued their relationship with the Pathways Center by attending the Coping Kids & Teens series and Camp Chimaqua, the Center's children's grief camp. Coping Kids & Teens helps children, teens and families learn about loss, develop coping skills and build self-confidence through fun-filled activities and opportunities for small- and large-group sharing in a safe atmosphere. We offer the area's most comprehensive grief education and support for children and teens. Thanks to the generous support of the community, most services are free of charge.
Coping Kids & Teens taught Katie and Avery that it is okay to talk about their father and to show emotions. They also learned how to remember their father, and that, overtime, it wouldn't always be this difficult. Much of this was done through fun activities that helped them express their grief. Joan shared with pride that Katie even recommended Coping Kids & Teens to a classmate of hers who recently lost her mother. Katie would also love to volunteer at Pathways when she is older.
"The ways children express their grief are as unique as their personalities," commented Patti. "Some children are naturally more talkative and inquisitive, others more quiet and reserved. Children tend to more readily express their grief through activities such as drawing, writing, making something or playing a game."
"I liked making crafts that helped me talk about my feelings," shared Katie. Joan shared that Katie had an interest in art prior to her father's passing, and after he passed she used art as a coping mechanism and is more apt to go to her room and draw when she is grieving.
In November, the Pathways Center held its first annual Heart to HeART Art Show showcasing the artwork of past and present Coping Kids & Teens participants, which included Katie and Avery's pieces.
"We heard from many adults that they had a desire for additional opportunities to remain connected to other Coping Kids & Teens families outside of the series, especially over the summer," shared Heather Shenk, a Coping Kids & Teens bereavement counselor. "Given the widespread need, we hosted a summer art series which allowed both the adults and kids to reconnect. The kids and teens were busy with their art projects, and the adults talked about their journeys caring for a bereaved child."
"Having the art show affirms and supports what they express through their art, it validates their feelings and makes them feel special and understood," shared Patti. "We were excited to come up with a new way to help others understand the amazing resilience and work these kids are doing at Coping Kids & Teens."
To learn more about Coping Kids & Teens, please Click Here or call the Pathways Center at (717) 391-2413. Watch for future communications about the 2020 Heart to HeART Art Show!
A Comforting Place for Children to Cope and Make Lasting Memories
In addition to Coping Kids & Teens, the Pathways Center offers an overnight grief camp, in late May, Camp Chimaqua, for children ages six through 12. A trained adult buddy is paired with each child for companionship, support and supervision throughout the weekend. This experience allows campers to realize they are not grieving alone, and to understand that their feelings are normal as they get to know others who have also lost a loved one.
To learn more about Camp Chimaqua, please call the Pathways Center at (717) 391-2413 or Click Here.