Back
Who Provides Hospice Care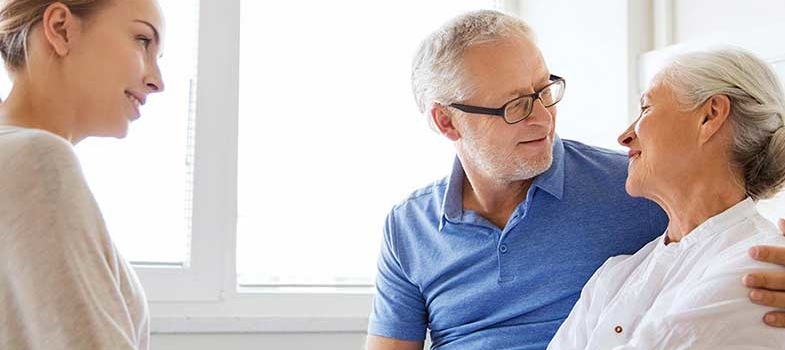 Hospice patients receive care and support from a team of professionals who are specially trained in hospice and end-of-life care. Your own physician is also part of the team and will continue to manage your medical care.  The Hospice team includes professional staff who provide help and support to both the patient and family.
Registered nurses (RNs) provide direct patient care and support to caregivers. RNs are highly trained and work closely with the patient's physician to provide effective pain and symptom management. They schedule their visits and maintain contact with the patient and the caregiver on a regular basis. A nurse is available 24 hours a day, seven days a week to respond to all questions and concerns.
Licensed practical nurses (LPNs) assist families and provide personal care under the direction of the hospice RN case manager. They also maintain the proper course of care that has been outlined  for each patient in his or her goals of care.
Hospice aides assist with personal care, including bathing, dressing, oral and nail care and homemaker services in the patient's home, at our Inpatient Center and at local senior care facilities.
Social workers are available to provide emotional support, counseling and assistance with community resources for families. Individual or family meetings can often help in coping with the stress of serious illness and increased care needs.
Spiritual care staff are sensitive to the spiritual needs of individuals facing serious illness. They are available to hospice patients, their families and caregivers, and work closely with their clergy or other spiritual support systems in the community.
Hospice physicians and nurse practitioners may visit patients and families to help manage symptoms, discuss treatment options and plan medical care.
Complementary therapists including our on-staff massage and music therapists are available to patients to relieve pain, bring comfort and provide support.
Volunteers visit patients at home, in senior care facilities or in the Inpatient Center. They also check on deliveries of equipment or medication. Volunteers provide a friendly smile, a listening ear, and a helping hand. They complete an in-depth training program before assisting patients and families.
Should other special services become necessary, Hospice & Community Care staff will coordinate these needs.  These may include dietary counseling, physical therapy or respiratory therapy.
For more information, call (717) 391-2421.