Back
Children & Teens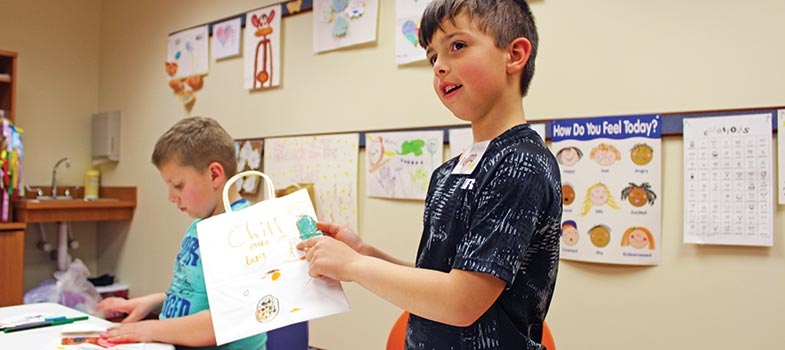 Coping Kids & Teens
Supporting the needs of children, teens and families impacted by serious illness and loss through individual and group grief support services.
"I feel better knowing that there are other kids who feel the same way I do." ~ Everett, age 16
Coping Kids & Teens helps children, teens and families learn about loss, develop coping skills and build self-confidence through fun-filled activities and opportunities for small and large-group sharing in a safe atmosphere. We offer the area's most comprehensive grief education and support for children and teens. Thanks to the generous support of the community, most services are free of charge. The Pathways Center for Grief & Loss is a resource that is available free of charge to anyone in our service area region. 
Counseling Services
Individual and Family Support
Master's-level grief counselors provide individual and family counseling for children, teens and families to help them effectively support each other and cope with serious illness and/or loss. Services are available in Mount Joy or York, via Zoom or by phone. Call the Pathways Center to schedule an appointment (717) 391-2413 or (888) 282-2177.
Coping with the Serious Illness of a Loved One
When a loved one is living with a serious illness it impacts the entire family, and children and teens are at times overlooked. With adequate information and support, parents and caregivers can help create a feeling of connection within the family despite this turmoil. This sense of connection gives both children and adults strength through this difficult time. Coping Kids & Teens provides education and support to help families navigate these challenges.
Good Grief Clubs
The Pathways Center for Grief & Loss offers a "Train the Trainer" Good Grief Club to area schools. This grief support series is for students affected by the death of a loved one. Pathways Center counselors co-facilitate the groups with school personnel during the school day for seven weeks. Call (717) 391-2413 for more information.
Grief Support Series
Grief counselors and trained volunteers facilitate peer support groups. These groups are open to any child or teen who has lost a loved one as a result of illness, accident, suicide, overdose,  homicide or any other sudden loss. We bring together children and teens with similar loss experiences to help normalize feelings, share experiences and grieve the death of a loved one. The sessions enhance family communication, expanding and deepening the personal skills needed to cope and adjust to the intense feelings and challenges that accompany loss and grief. Groups are held on Thursday evenings starting with a light supper from 6:00 – 6:30 p.m. following by age-specific group activities from 6:30 – 7:30 p.m. Prior to enrolling in a series, families attend an assessment to ensure that the support group will be helpful.
For Grief Support Series dates, click here.
Camp Chimaqua
Camp Chimaqua, a 3-day overnight weekend camp for grieving children (ages 6-12), provides a safe, accepting and healing environment to better understand and express feelings of grief and loss.
Click here for more information about Camp Chimaqua.
Apart from a small registration fee for retreats and camps, there are no fees for any Pathways programs due to the generous support from the community.
Bibliographies, Handouts and Grief-Related Websites
The Pathways Center for Grief & Loss provides handouts, bibliographies and a list of grief-related websites for children and teens coping with serious illness, grief and loss. Click here for a listing.
Pathways Center for Grief & Loss
4075 Old Harrisburg Pike, Mount Joy, PA 17552
(717) 391-2413 or (888) 282-2177
En español: (717) 391-2440
pathways@hospicecommunity.org