Back
Adult Support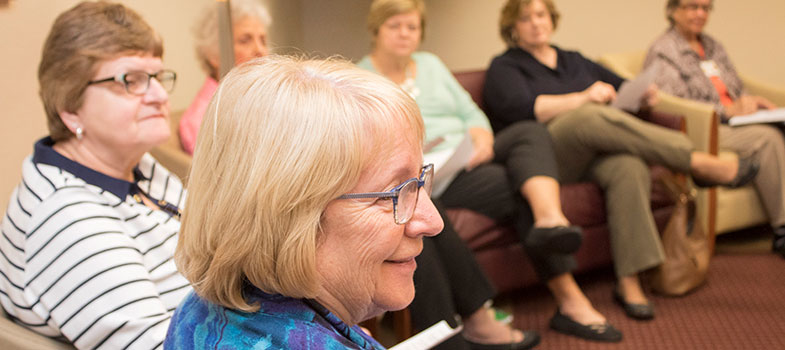 "I would like to thank Pathways for helping me move on and get through day to day struggles related to the deaths I have experienced in the last year – thank you!!" ~ Monika R.
Since each journey through grief is unique, we offer a broad spectrum of options for adults who are coping with the serious illness or death of a loved one. Many are available both in the daytime and evening.
As we are taking all necessary precautions for the health and safety of our patients and families, staff, volunteers and visitors related to the Coronavirus outbreak, our support groups will be held virtually via Zoom until further notice. Please call the Pathways Center at (717) 391-2413 or (800) 924-7610 to request the log-in address or phone number to participate in groups via Zoom.
Access Online Grief Support
The Pathways Center for Grief & Loss offers online grief education 24/7 to meet you at your own time at your own place. The Want to Understand Your Grief videos provide education about the grief journey. Click here to access our online videos.
Individual Consultation
Many people feel reassured and affirmed about their grief experience after meeting individually with our counselors. If professional experience is needed beyond the scope of the services we offer, our staff can recommend additional support through local resources for specialized counseling services. One-on-one counseling is available via Zoom or by phone at no charge.
Newly Bereaved Series
A three-part series is offered each month for those whose loss was recent.
Adult Drop-In Support Groups
Each group offers a presentation on a variety of topics by a grief counselor, followed by time to talk with others who are grieving. Groups are designed for those within the first two years following the death of a loved one. The following monthly adult support groups are available.
Coping with the Loss of a Parent or Sibling
First Tuesday of each month, 6:30–8:00 p.m. (excluding December)
Coping with the Loss of a Companion/Spouse
Third Tuesday of each month, 2:00–3:30 p.m. (excluding November and December)
First Wednesday of each month, 6:30–8:00 p.m. (excluding December)
Second Tuesday of each month, 6:30–8:00 p.m. (excluding November and December)
Fourth Tuesday of each month, 2:00–3:30 p.m. (excluding November and December)
Grief Recovery After a Substance Passing (GRASP)
This free monthly group provides compassion and understanding for individuals who have had a loved one die as a result of substance abuse or addiction. The group is held the second Tuesday of the month, 6:30-8:00 p.m.. Pre-registration for new attendees is required. Contact Marjorie Paradise at mparadise810@comcast.net or (717) 951-2720.
HERO – Heal, Endure, Restore after Overdose (Closed Facebook Group)
The purpose of HERO is to provide a safe environment for those grieving an overdose loss to raise questions, express feelings, and support one another along their grief journeys. It is essentially a peer-to-peer group for mutual support, facilitated by Pathways Center's master's level grief counselors.
To join the group, Click Here.
To view the group disclaimer, Click Here.
Growing Through Grief
This series, for individuals whose loss was at least nine months ago, explores ways of coping with life changes after the death of a loved one. Taught with both lecture and discussion, this six-week course is held for two hours each week in the spring and fall.
Coping with Sudden Loss
Occasional support options on Coping with Sudden Loss due to suicide, drug overdose, accidents, homicide or medical events are offered. These opportunities provide a safe place to share with others who also have questions and struggle with the shock and intense reactions associated with sudden traumatic losses.
Coping with the Holidays
Getting through the first or subsequent holiday seasons may be difficult after the death of a loved one. These sessions, held in November and December, provide the opportunity to connect with others who are grieving and obtain support throughout the holiday season.
Social Dine-Out Options
All dine-out options are cancelled until further notice.  
After the loss of a loved one, many find their social environment has changed. It may be difficult to know where or how to start socializing again. Hospice provides the following options to dine with others. Each participant pays for his/her own meal.
Ladies Lunch (for bereaved women)
Ladies Brunch (for bereaved women)
Men's Breakfast (for bereaved men)
Dinner Out (for bereaved men and women)
Grief Support in Spanish
The Pathways Center for Grief & Loss's bilingual Bereavement Counselor, Deborah Gonzalez, MSW, is available to any bereaved individuals who speak Spanish. Call (717) 391-2440 to leave a confidential message in Spanish or if you wish to receive our Spanish newsletter. Click here to view our Spanish newsletter. For more information, Click here. 
Pathways Center for Grief & Loss
4075 Old Harrisburg Pike, Mount Joy, PA 17552
(717) 391-2413 or (800) 924-7610
En español: (717) 391-2440
pathways@hospicecommunity.org