Back
Bringing Families Together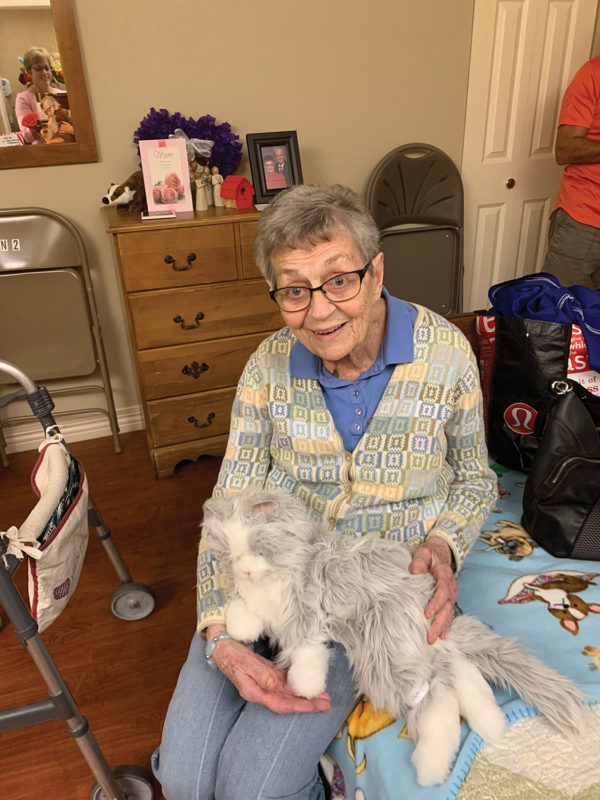 Kelly Trach has been a member of Hospice & Community Care's Women's Giving Circle since 2011. As a member, she has been instrumental in funding new and innovative projects and services to enhance Hospice's care and comfort for patients and families. And one of those funded services, unbeknownst by Kelly, would hit close to home.
The Women's Giving Circle provides interested women with the unique opportunity to pool their individual annual contribution of $500 and have a greater impact by investing in programs and services that build and strengthen hospice-related programs through the power of joint contributions.
Kelly isn't just a supporter of the Dementia Resource Kits through her involvement in the Women's Giving Circle, she also experienced the benefits of the Kit firsthand when her mother, Dolores, used one of Hospice & Community Care's mechanical companion cats in 2019 at the age of 95. The mechanical cats are one of many items in the Dementia Resource Kits.
Kelly was given the companion cat at a Women's Giving Circle event. "The funny thing, my mom didn't like cats; we grew up with dogs," shared Kelly. "That's why I was surprised with how much she liked the cat. Many times she really thought it was real."
The cat, as her mother named her, Snowflakes, was the perfect solution to help ease her mom's symptoms. "Snowflakes helped to calm Mom down and distracted her from her frustrations and pain," shared Kelly.
"As Mom's dementia progressed, we couldn't carry on normal conversations," shared Kelly, "so Snowflakes provided a distraction and something we could talk about. When talking to or about the cat, she made perfect sense." Often Kelly would bring her mom to her home for an afternoon visit, however, when they would drive back to her home, a local senior living facility, she would become frustrated, agitated and mad at Kelly for not letting her stay at the home where she lived with them for 15 years. "After I was given the mechanical cat from Hospice, I would give Mom Snowflakes to hold on her lap during the trip back to the nursing home," commented Kelly. "It made the drive much more enjoyable."
"The symptoms of Dementia and Alzheimer's are so difficult to understand and to know how to deal with for families and caregivers….let alone the person experiencing the changes," commented Kelly, "so anything that can help all of those involved is very, very important."
For more information about the Dementia Resource Kits, call Amy Lewis, Director of Philanthropy, at (717) 735-8729. To join the Women's Giving Circle, Click Here or call (717) 295-3900.