Back
2019 Impact Report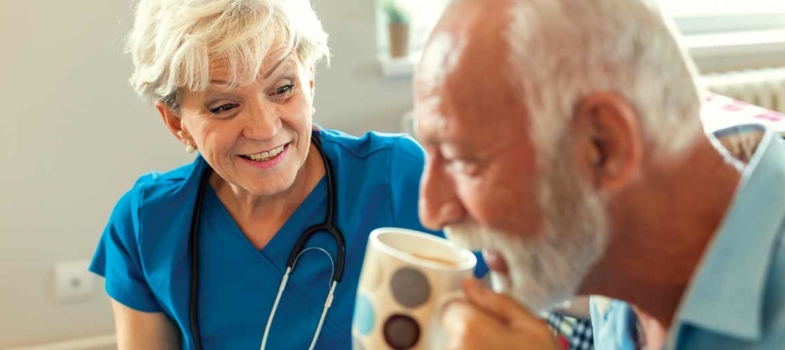 Your Care. Your Community. Your Hospice.
This year Hospice & Community Care is celebrating 40 years of providing care and comfort for people in our community. As the organization enters 2020 from a position of strength and growth, it would not have been possible without a strong 2019. While 2020 marks a milestone anniversary, 2019 was a record-breaking year with numerous milestones of its own, many of which are featured throughout this web page. Thanks to the care and comfort provided by Hospice employees, volunteers and the generosity of the community, last year was extraordinary.
In 2019, we cared for an average census of 525 patients each day through Hospice Care and Supportive Care, an increase of 3.8% from 2018. While this was a record for the organization, Hospice staff continued to provide quality personalized care and comfort to help all patients and families live better with serious illness. Hospice & Community Care's employees and volunteers go above and beyond each day to meet the needs of each patient and family. It is because of their dedication that the organization is able to celebrate 40 years of service.
As we cared for an increased number of patients and families your gifts made a significant impact. By making a gift to Hospice & Community Care you gave patients access to a nurse 24/7; a wife time to spend with her husband in the Bob Fryer & Family Inpatient Center; a child the chance to attend our grief camp and so much more. Whether you gave for the first time or you are an annual supporter, thank you for making a difference. Throughout this web page you will learn how your dollars are having a far reaching, lasting impact.
Hospice & Community Care anticipates new opportunities to continue its mission in 2020. The organization is excited for what this year has to bring and is grateful for a successful 2019. It is because of the community that we have been able to grow and provide the best end-of-life care for 40 years. Thank you for your support!
Mission, Vision and Values
Meet Hospice & Community Care's 2019 Board of Directors
Meet Hospice & Community Care's Leadership Team
View a PDF of the 2019 Impact Report
Your Care
Your Community
Your Hospice
Your Dollars at Work
Community support has served as the foundation for Hospice & Community Care, and continues to be a driving force for the organization's sustainability and growth over the past 40 years. Thanks to the generosity of the community—whether financially, through donated items or serving as a volunteer – Hospice & Community has been able to ensure that each and every patient receives personalized care and comfort when they need it most. Here are some ways that your dollars are made a meaningful difference in 2019…