Back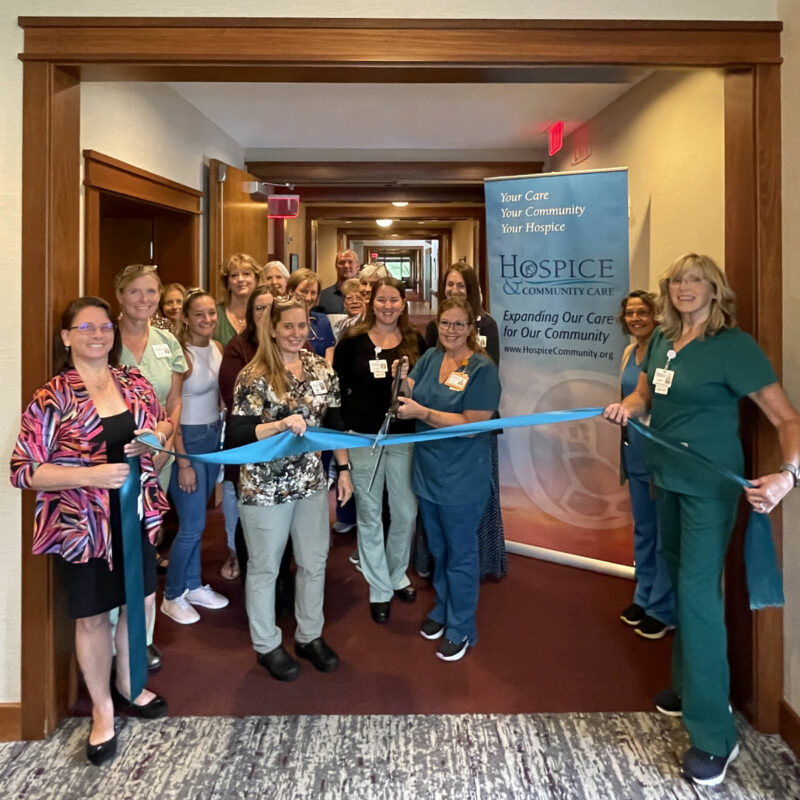 Taking care of patients with varied needs at end of life is a challenging task, but one that can be done with the help of many. Hospice & Community Care uses a team approach to provide the most comprehensive level of care to patients. Members of Hospice & Community Care's Sage Team shared how they deliver patient-centered care, the importance of collaboration, as well as memorable moments caring for patients and families through the organization's newly established Residential Care Program.
The Sage Team includes four licensed practical nurses (LPN), four aides, a social worker and chaplain. Inpatient Center leadership provides direction to the team and assists with patient care coordination. This 12-person team takes care of up to eight residents on any given day in the residential care wing of the Bob Fryer & Family Inpatient Center which opened in August 2022. Each member brings a high-level of skill and hospice knowledge to the team.
"When positions for the new Residential Care Program were posted I was thrilled," expressed Joanne Mannix, LPN, Hospice & Community Care. "We have the unique opportunity to create a home setting within a care facility, providing end-of-life care that meets the hopes and needs of each individual." The Sage Team helps individuals who need assistance with activities of daily living, such as eating, toileting and bathing. They also help to oversee and maintain a patient's symptoms. Patients who are part of the Residential Care Program have a limited life expectancy of approximately weeks to a month.
"The Residential Care Program will give me the opportunity to continue to grow and provide an important service to our patients and their families, while still maintaining the supportive atmosphere that makes Hospice the success that it has been since its opening," explained Becky Moilanen, LPN, Hospice & Community Care."
Patient and Family Care
"Losing a loved one is never easy but I enjoy being able to bring a bit of comfort or peace to families as they experience this loss," shared Allie Richards, Hospice Social Worker. "Working with the dying is not for everyone and it's very clear that our staff at Hospice works in this field because it's a calling. It is fulfilling to work with the team and provide this service to the community. Being able to offer the Residential Care Program to families and to physically see them relax as if a weight is being lifted off their shoulders is really rewarding."
While the Residential Care Program only began in August of this year, many of the team members are already having memorable experiences with patients and families.
"A fellow nurse and I assisted a patient, who had been bed-bound, onto a mobile reclining chair and out their patio door," shared Joanne. "First to the sun-filled patio, then down the hallway to the beautiful common living area where they and their family enjoyed several hours visiting and soaking up the experience. Talk about happy tears!"
"I was recently working with a patient who was living alone and her children were living out of state," shared Allie. "She had been doing well independently, but had a sudden decline which prompted her admission to the Inpatient Center. Her daughters were, of course, very concerned about what would happen to her, and I could hear the relief in their voices over the phone when I explained the Residential Program. Family was able to fly into town and see their mother before she died. They were extremely grateful for the care their mother was given and expressed thanks that she didn't need to be 'bounced from place to place' in her final days. It really underscored for me why the Residential Program was developed and showed how it can support patients and their families."
Working Together
It all goes back to the patients and families and providing the best care possible. The team approach allows consistency in who is providing care. The closeness of the team allows anyone to instantly update the rest of the team when there is a significant change, such as a symptom, increased or new pain, or when at end of life. Each member has their role, very unique to the team.
Hospice aides provide personal care such as bathing and dressing. They build a strong sense of trust with the patient and family and ensure the nurses' strategies for the patient's plan of care are working. "I love working with the amazing, caring staff and volunteers as we walk alongside each person on their life journey," shared Nancy Peters, Hospice Aide. "What a privilege it is to be at Hospice & Community Care."
"This is probably the best job I've ever had," commented Darlene Hutchinson, Hospice Aide. "I've never worked for an organization where people are always saying thank you to one another and where we all work as a team to care for each of our patients and their families. I was nervous starting a career in end-of-life care, but my co-workers and volunteers have made it so rewarding."
Nurses assist families and provide personalized care. They also maintain the proper course of care that has been outlined for each patient in his or her goals of care.
"Working at Hospice & Community Care is hands-down the most rewarding experience of my nursing career," explained Joanne. "I have had the most memorable and unique experiences serving a vastly diverse community of people who are now at the final stage of life. We have the opportunity each day to bring comfort, dignity and hope into the picture. Hope that tomorrow will be less painful, less stressful and less scary. We can help our patients and their families experience the days and nights ahead with the peace of knowing that help comes to the door when needed. I am proud to be a part of this organization and to work alongside some amazing people who share the same commitment to quality end-of-life care."
The Hospice social worker has a relationship with each discipline on the team and is called upon to provide outside support and resources to the patient and family. They are also there to listen without judgment. The Hospice chaplain offers spiritual guidance and support for patients and families, and can also serve in that capacity for the team.
"One of the most enjoyable things about working for Hospice & Community Care is feeling like I make a difference to my patients and their families," shared Becky. "Another is my co-workers. Everyone here is a team and we support each other beyond just our job descriptions."
Thank you to our Sage Team—Allie Richards, Becky Moilanen, Darlene Hutchison, Joanne Mannix, Kevin Frain, Kori Deller, Mary McNee, Melissa Helm, Michele Frymyer, Nancy Peters, Pamela Cook, Sarah Schrock, Stacy Bronkema, Summer Wiker and Inpatient Center leadership—and all of the patient care teams at Hospice & Community Care.