Back
Meeting an Unmet Need in the Community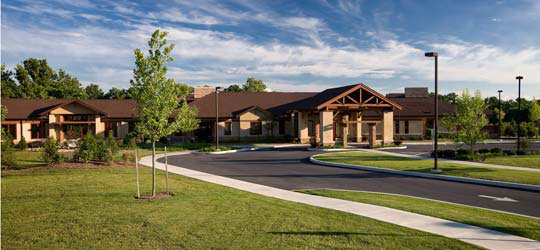 Conversations about an Inpatient Residential Care Program at Hospice & Community Care pre-date Covid-19. However, the need for this level of care was magnified during the pandemic. "Seriously ill people and their caregivers desired to stay at home, decreasing the number of patients admitted to the Inpatient Center," explained Paige Payne, Vice President, Patient Care, Hospice & Community Care. "In addition, finding placement for individuals who were coping with a life-limiting illness outside of their homes was challenging as facilities and personal care homes were having to adapt to the challenges of caring for residents during the pandemic." In August 2022, Hospice & Community Care expanded its inpatient services at the Bob Fryer & Family Inpatient Center to include residential care.
"Our ultimate goal with the Residential Care Program is to help fulfill an unmet need in our community," shared Steve Knaub, President & CEO, Hospice & Community Care. "We want to be able to avail the entire community to the services and amenities offered at the Inpatient Center and to our highly-trained staff. We also want to respond to the requests of patients and families for longer stays in the Center. Financially, while this program does require out-of-pocket costs for room and board, we do offer a fee reduction for those in need—making residential care accessible to all."
"Many patients and families struggle with incredibly difficult caregiving decisions and physical demands of caregiving while faced with financial burdens throughout a terminal illness," shared Jean Parsons, Director of Inpatient Services, Hospice & Community Care. "Often, patients and families ask to continue care in the Inpatient Center following a short-term stay, expressing feelings of helplessness and angst when asked to make caregiving decisions and plan for care at home or elsewhere."
Types of Inpatient Care
You may be asking yourself how does residential care differ from the care patients and families have always been receiving at the Inpatient Center? There are three levels of care, including residential, being offered at the Inpatient Center. The most common is our general inpatient level of care. General inpatient care is for short-term treatment, similar to an acute hospital stay, when patients' symptoms require physician intervention, frequent nursing assessment, medication adjustments and the management of distressing symptoms, such as pain, nausea or agitation. Once symptoms are managed, plans are made for the patient to return home or to a skilled care facility. This level of care is covered by Medicare, Medicaid and most private insurances.
Respite care, or breaks for caregivers, is another level of care and is available to Hospice families for up to five days at a time on an occasional basis. While patients stay at the Inpatient Center for short-term stays, caregivers can rest, travel or go to appointments. Patients often return home following a respite stay. This level of care is also covered by Medicare, Medicaid and most private insurances.
Residential care is offered for patients with a limited prognosis of approximately weeks to a month for 24/7 end-of-life care provided by nurses, aides, social workers, chaplains and volunteers in collaboration with patients' attending physicians. Patients' symptoms are under control and they may need assistance with personal care, such as eating, toileting and bathing. Patients and families pay out-of-pocket for room and board with care being covered by Medicare, Medicaid and most private insurances. Hospice & Community Care does provide a fee reduction for those who qualify.
The Benefits to Patients and Families

"What makes Hospice & Community Care's Residential Care Program unique, compared to similar programs in the region, is that care is being provided by a team of highly-skilled nurses, aides, social workers and chaplains who are trained in the field of end-of-life care," shared Steve. "Care is also being provided in a facility that is equipped with the resources to handle the needs of patients and families that are facing end of life all in a home-like environment."
The Bob Fryer & Family Inpatient Center is designed to be a home away from home with 24 bright, private comfortable rooms, eight of which are used for the Residential Care Program, and plenty of space for family and friends to gather. The Center is open 24 hours a day for visitors, and features living rooms and fully equipped kitchens.
Safety is another benefit to patients and families at the Center. "Caregivers and families will have peace of mind in knowing that their loved one is free from common safety concerns that they may experience in the home setting," explained Paige. "For patients who may have lived alone and independently prior to their diagnosis, they have their own space at the Center and assistance will be only a call bell away."
Patients and families have expressed a desire in not wanting to move from one place to another, such as from the hospital to home or from the hospital to a senior living facility. The Residential Care Program allows patients and families to be cared for through end of life and transition within the Center if or when a higher level of care is needed to manage challenging symptoms. At each stage of care, specialized Hospice providers are caring for patients and families.
"Most importantly, in addition to medical care, the Inpatient Center offers the day to day caregiving to allow families to focus on spending quality time with their loved ones," explained Jean. "The Center helps people spend time as a daughter, brother or spouse rather than having to meet the demands of being a caregiver."
Referring Your Loved One
If you are a current Hospice patient, caregiver or know someone who could benefit from inpatient residential care, please speak to your Hospice social worker or contact us at (844) 422-4031 for details regarding eligibility.