Back
Your Dollars at Work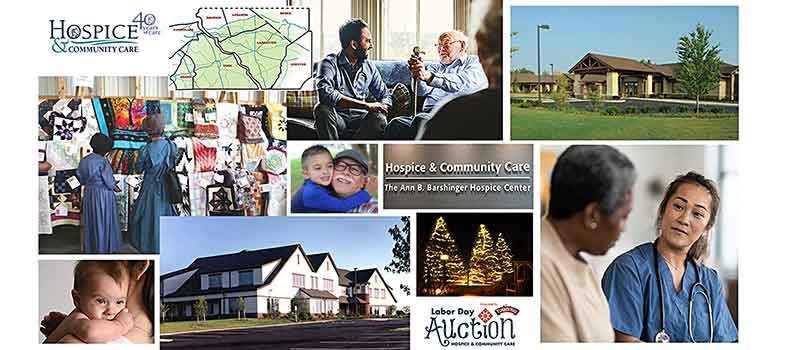 Community support has served as the foundation for Hospice & Community Care, and continues to be a driving force for the organization's sustainability and growth over the past 40 years. Thanks to the generosity of the community—whether financially, through donated items or serving as a volunteer – Hospice & Community has been able to ensure that each and every patient receives personalized care and comfort when they need it most.
As one of the few non-profit hospices serving south Central Pennsylvania, Hospice & Community Care relies heavily on the generous support of the community. And it is because of that support that Hospice is able to ensure that all patients and families, regardless of financial resources, are never denied care and comfort.
The Medicare Hospice Benefit pays for a portion of hospice and end-of-life care provided by a hospice program. Private health insurance may also provide coverage for people facing end of life. However, when specialized equipment or medications are not reimbursed by Medicare or insurance, the generous support that Hospice & Community Care receives from the community helps to offset costs.
Here are some of the ways that your dollars made a meaningful difference in 2019:
Uninsured patients and families could spend quality time together without worrying about how they would cover the cost of Hospice care, thanks to the $179,812 raised through the Day of
Care program.
Several Veteran patients received a military pinning by Hospice volunteers, which included providing the patients with a military certificate with their name and branch of the military, a small flag, a star and a Veteran service pin, made possible through the Women's Giving Circle.
Due to gifts made to the Clinical Patient Special Needs Fund, Hospice & Community Care staff were able to transport a patient, whose insurance would not cover the ambulance transfer, from the Bob Fryer & Family Inpatient Center to her home so that she could spend Easter with her family.
Patients, on a limited budget and with food restrictions, were provided with grocery store gift cards through funds made available by the generous support of the community.
Gifts made to The Nancy M. & H. Carter Clements Dementia Care Endowment Fund supported care and services for patients and their families who were coping with dementia, including those unable to pay for that care.
Children and teens received grief support at no cost at the Pathways Center for Grief & Loss, thanks to $90,706 raised during Hospice & Community Care's Spring Fling fundraiser.
Gifts made to the Inpatient Center Extended Stay Fund provided patients and their families valuable time to focus on what was most important to them. When insurance no longer covers inpatient room and board, and patients and families were unable to pay the $325 per day cost, the Fund helped to cover these fees.