Back
You Move Forward, but You Don't Move On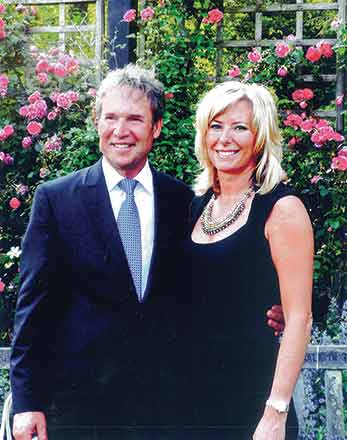 Andrea (Andee) Grosnick lost her husband Cedric (Ced) Grosnick in November 2015 after a two and half year battle with cancer at the young age of 60.
Ced was a Lancaster-based periodontist, a stepfather, a lover of classic cars, and an avid golfer. He was the picture of good health, so when he started experiencing a shortness of breath in 2013, he and Andee became concerned. Sadly, he was diagnosed shortly after with lung cancer.
A year and a half into his cancer battle, Ced started receiving end-of-life care from Hospice & Community Care. "I always thought hospice was for someone who had 48- to 24-hours to live," shared Andee, "but Ced received care for over a year." Throughout that time, Ced benefited from various Hospice & Community Care services. He was initially cared for at home where he received regular visits from Hospice staff – from nurses to a massage therapist, from a social worker to chaplain, and a Palliative Medicine physician. "Hospice staff became like family," smiled Andee.
Andee shared that Ced had a lot of anxiety and stress throughout his illness, but that his Hospice nurse, Katie, gave him extra security. "Ced was a talented physician, but a horrible patient," laughed Andee. "At the beginning Ced didn't even want to be in the room when Katie arrived but after a short time he warmed up to everyone, especially Katie. They formed such a strong relationship and she was able to calm him. As his caregiver, it gave me peace of mind."
Hospice & Community Care staff do not just care for the patient medically; they care for them mind, body and spirit. They also care for the family.
Andee's son, Matt, attended a local college which allowed him to help with Ced's caregiving. "Hospice staff was there for all of us," commented Matt Junkin. "What I appreciated most was that they were there for my mom – providing a sense of comfort. She knew Ced was in good hands with the Hospice team."
"It was hard for me to have those end-of-life conversations with Ced," shared Andee. "I was so appreciative to have a Hospice chaplain help guide those conversations, such as where he wanted to be buried and who he wanted as his pallbearers, things that I hadn't even thought of asking him." Andee shared that the chaplain gave Ced such comfort and that he really opened up to him– sharing wishes that she was not aware of regarding his end-of-life care.
Hospice social workers were also a huge help for Andee and Ced. Andee shared that they helped to protect her immediate family from any outside stressors, which helped to reduce Ced's anxiety.
Even the small things were such a blessing for Andee. "I can remember having to call to refill Ced's medicine at 8 or 9 in the evening," commented Andee. "I lived in Hershey and the pharmacy was located in Lancaster. The staff were so responsive, and I would apologize to them for having to deliver his meds so late in the evening and they always replied, 'That's what we're here for.' It was such a relief."
"It wasn't just what Hospice did for us, locally," commented Andee. Ced wanted to spend time in Florida before he passed so Hospice & Community Care staff arranged for hospice care in Florida. "The transition was so smooth," shared Andee. "But, it also made me realize how beneficial and lucky we were to have Hospice & Community Care. The care Ced received, locally, was top-notch and I never realized how different each hospice program was."
On November 6, 2015, Ced was transferred to Hospice & Community Care's Bob Fryer & Family Inpatient Center located at The E.E. Manny Murry Center in Mount Joy where he passed away ten days later.
Matt shared that Ced had such a kind heart and knew what was important in life, his family. "Ced's death has brought us all closer as a family," commented Matt. "We are there for one another physically and emotionally, which is what Ced would have wanted."
Andee now lives in Florida full time and shared that her home is now on a golf course, and since Ced was an avid golfer, she looks out and smiles every morning thinking about him and knows that he will always be with her.
For more information about or to make a gift to The Cedric E. Grosnick Scholarship Endowment Fund, Click Here or contact Bonnie Jess Lopane, Vice President, Chief Development Officer, at (717) 391-2407.