Back
Support After a Unique Loss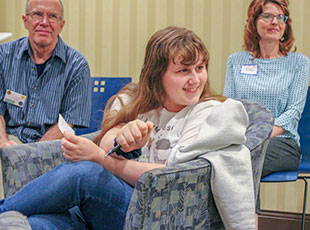 Over the last several years, Hospice & Community Care's Pathways Center for Grief & Loss has seen a significant uptick in the number of children, teens and adults supported who have lost a loved one due to overdose, addiction, suicide or other tragedy. Pathways Center counselors find that it can take people grieving a sudden, unexpected death, longer to grieve and mourn than it will for someone grieving a loss that is somewhat expected.
With this in mind, the Pathways Center offers a regularly scheduled support group that is specifically designed to help people coping with a sudden loss. This Sudden Loss group provides a safe environment for adults to share with others who also have questions and struggle with the shock and intense reactions associated with sudden traumatic losses.
Now in this third year, GRASP (Grief Recovery After a Substance Passing) is a support group for adults who have lost a loved one as a result of substance abuse or addiction. Loss due to overdose or addiction often comes with a negative stigma and leaves families struggling with guilt and anger as to how to handle their loss. GRASP is a group that allows people to speak openly and candidly about their grief journey and is led by individuals who have also lost loved ones due to addiction. Watch for more services and resources in 2020 for individuals who have lost a loved due to overdose or addiction.
Grief is experienced by the entire family – children, teens and adults. Amid serious illness and death, children and teens often are overlooked, yet their needs are significant. The Pathways Center offers Coping Kids & Teens, a six-week series for children and teens to meet in peer support groups and participate in activities to help them cope with a death, while adults learn how to manage the challenges of supporting grieving teens and children. In 2019, more than half of the children and teens served through Coping Kids & Teens lost a loved one unexpectedly.
8,971 — Total number of children, teens and families served by the Pathways Center for Grief & Loss
1,171 — Total number of bereaved individuals supported by the Pathways Center for Grief & Loss who were not served by Hospice & Community Care
42 — Total number of children and teens who experienced an overdose loss, suicide loss, or loss due to a death from a homicide or accident