Back
Making a Lasting Impact (with Her Green Thumb)
They were the quintessential couple. Born and raised in Lancaster County, high school sweethearts, and married for 61 years. Bob and Dorothy Patterson, or as she was affectionately called by her family and friends, Dottie, "were the classic American couple, a dynamic duo and extremely devoted to each other," according to their daughter, Tracy Patterson Cunningham. "Our parents came from modest means," shared Tracy. "Mom and Dad were a product of the region. They had a strong work ethic and were devoted to giving back to the local community. That is something that I always admired."
"Dad was the anchor of the family," shared the couple's son, Craig Patterson. "Mom was generous to everyone and was witty," shared Tracy. "She was our Lucille Ball."
Quality Care and Comfort
Dottie and Bob both received care and comfort from Hospice & Community Care. "Hospice has had a profound impact on our family," shared Craig. "The organization was a Godsend. I don't know what we would have done without your services." Dottie had a prolonged illness whereas Bob had a more rapidly progressive diagnosis. "We experienced two ends of the spectrum with hospice care," shared Tracy.
Dottie fought a courageous battle with pancreatic cancer and throughout her illness she received care at home, as well as at the Bob Fryer & Family Inpatient Center. Dottie frequented the Inpatient Center to help manage her symptoms. "It was such a comfort to our family to know that if she was going to have a bad spell, Mom could return to the Inpatient Center immediately," shared Craig.
Bob was Dottie's primary caregiver so when she was receiving inpatient care, he could "be a husband," shared Tracy. "It allowed us to be a family."
"Mom's objective was to pass away at home," shared Craig. "Hospice was key in achieving that goal." "The nurses and entire team were outstanding," commented Tracy. "Their support and comfort were as important to us, as a family, just as it was for Mom."
Bob began receiving hospice care in 2020. "When Dad became ill it was during the pandemic and everyone at Hospice was fantastic," shared Tracy. "They were responsive to his needs, which increased in a matter of days, and they were supportive in answering our questions. The oversight of their care was the greatest thing. We didn't need to worry about what would happen next or what we needed to do. Always at the center of their focus was our dad's comfort."
Sharing Their Love of Nature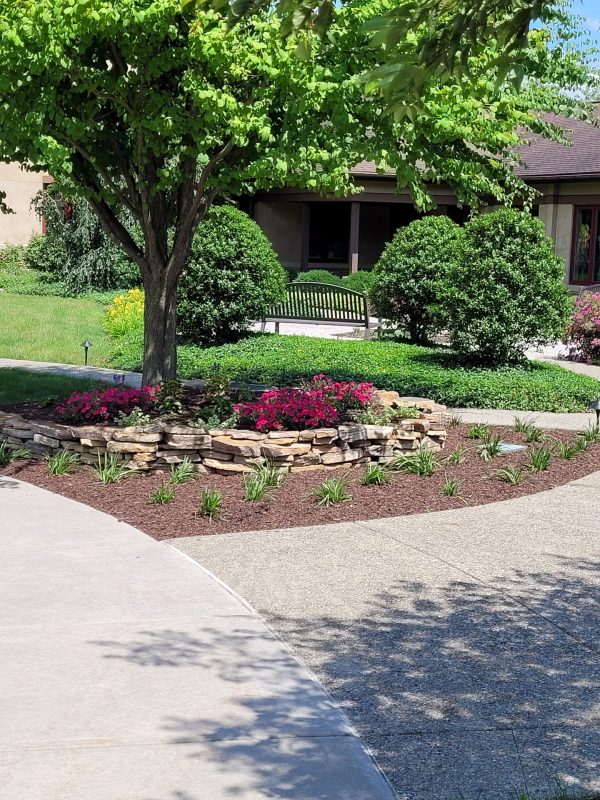 Bob and Dottie had a real passion for building houses, landscaping and decorating. "They were really quite a duo transforming their environment," shared Tracy. "They enjoyed the entire process – from planning to execution to maintenance." The couple had a passion for sharing their splendor of nature through the creation of beautiful gardens and landscaping. So it was only fitting that Bob created The Dorothy J. Patterson Garden Endowment Fund in memory of Dottie.
Craig shared that when his father was interviewed for a local publication about why he planted flowers at Willow Valley Retirement Communities, where Bob and Dottie lived, his father said that he did it because "it made her [Dottie] happy to look at them." That is one of the reasons, why Craig believes, his father established the endowment fund, "to make Mom happy." "That truly symbolized their marriage," shared Craig. "My dad's number one goal was to make Mom happy."
Through the Endowment Fund, Bob and Dottie can share their love of gardening with Hospice & Community Care patients and families. The income from The Dorothy J. Patterson Garden Endowment Fund will provide for the ongoing beautification, maintenance and growth of Hospice & Community Care's gardens, walkways, benches and exterior features. The income may be used to purchase and maintain flowers and plants for Hospice & Community Care locations. "Our hope is that families can find a little piece of nature to enjoy when visiting their loved ones," shared Craig. "It will provide a little bit of respite for families."
Tracy shared with a laugh that her parents were both very meticulous and orderly, and she knows that her dad would be pleased to know that the Fund includes maintenance of the grounds.
To make a gift to The Dorothy J. Patterson Garden Endowment Fund, please contact Amy Lewis, Director of Philanthropy, Hospice & Community Care at (717) 735-8729 or alewis@hospicecommunity.org.