Back
Hospice Labor Day Auction Raises $1.1 Million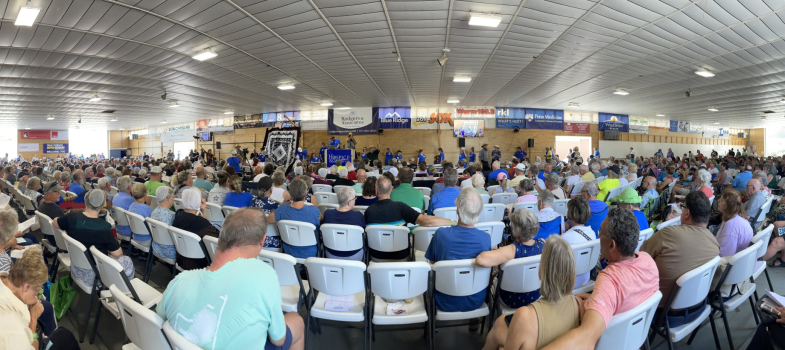 On Saturday, September 2 and Monday, September 4, Hospice & Community Care held its 39th Labor Day Auction and raised a record $1.1 million for patients and families receiving hospice and palliative care and bereavement support.
"Our community is extremely generous," commented Bonnie Jess Lopane, Vice President, Chief Development Officer, Hospice & Community Care. "The Auction is a true example of the collective impact we can all make when we come together for a cause. Many of the Auction attendees are caregivers or family members of loved ones who were served by Hospice & Community Care, and this is their way of giving back to others in need of care and comfort. We are so appreciative of everyone's support."
Hospice & Community Care serves more than 500 people a day in their homes, senior living facilities and at its Bob Fryer & Family Inpatient Center, regardless of their ability to pay. Funds raised from the Auction will go toward providing end-of-life care and support for all patients and families.
During the Auction thousands of people bid on vacation stays, jewelry, Amish-made quilts, art, sports memorabilia, plants, tools, furniture, collectibles, and new and used items. In addition, Hospice & Community Care's Day of Care Auction, where participants buy days or weeks of Hospice care to be given to families in need, raised nearly $100,000. That's enough to cover the cost of roughly 500 days of Hospice care.
The Labor Day Auction would not have been possible without the support and dedication of Hospice & Community Care's more than 350 volunteers who support the Auction. These amazing men and women helped to unload and arrange donated items the week leading up to the Auction; spent their weekend at the Auction serving in different roles and helped to clean-up on Tuesday morning. "The Auction is a true labor of love," shared Bonnie.
Hospice & Community Care is a nonprofit hospice provider serving patients and families at end of life since 1980. Hospice & Community Care is the largest nonprofit hospice in Pennsylvania. In 2022, the organization provided Hospice and Supportive Care for nearly 3,800 patients and families, nearly 1,000 patients received palliative care, and nearly 8,800 adults, teens and children received grief support from the Pathways Center for Grief & Loss. Visit www.hospicecommunity.org for more information.