Back
Caring Beyond the Diagnosis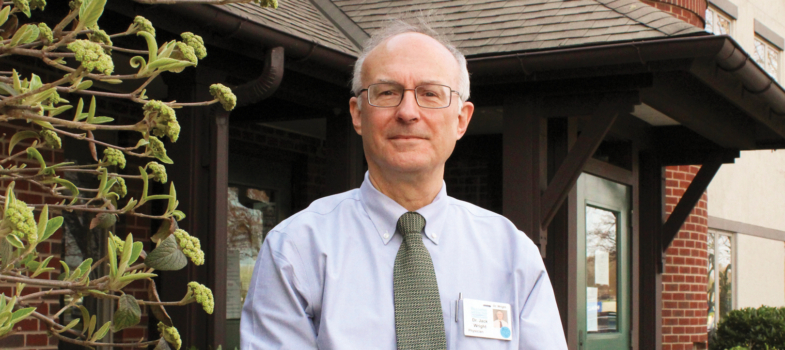 It has been said that a "picture is worth a thousand words." For Hospice & Community Care's Dr. Jack Wright, a home visit with a Hospice patient and family is worth a billion words. Patient and family care for Dr. Wright, and all of Hospice & Community Care's physicians, is more than just the patient's diagnosis and disease. "Sure, I know about the person medically, but I practice psychosocial care as well," commented Dr. Wright. "Patients and their families are a unit and I focus on how the disease and diagnosis are affecting everyone's well-being and how the entire family is taking part in the patient's care."
Dr. Wright has been working for Hospice & Community Care for six years. Prior to joining the organization he worked in family medicine and end-of-life care in Virginia. Dr. Wright began his medical career in the United States Army during which time he practiced curative medicine as well as delivered babies. Following his military career, he continued specializing in family medicine. It was a natural progression to expand his specialty to end-of-life care.
As a Hospice & Community Care physician, Dr. Wright visits with patients and families to help manage the patient's symptoms, discuss treatment options and plan medical care. But it is what happens during those visits that are most rewarding for Dr. Wright. "It is extremely fulfilling to connect with patients and families on a personal level during my visits," shared Dr. Wright. "It helps to create rapport and build trust among everyone involved in the patient's care. Patients and family members have opened up to me during my visits. One patient who collected model trains showed me his collection and shared fond memories of adding to his collection throughout the years. He was so proud to show and tell me about the trains. That is such a gratifying aspect of my job."
Dr. Wright also enjoys helping caregivers who are involved in their loved one's care. "People do amazing things taking care of their loved ones," said Dr. Wright. "I try to help them with how to best provide care and encourage them throughout their caregiving."
Dr. Wright has had many memorable experiences during his time at Hospice & Community Care. One that stands out the most was when he visited a patient who was in the Army. "Since I, too, was in the military, the patient and I had a special connection and he shared his stories from World War II with me and his daughters, some that his daughters had never heard before. He was such a humble man and had received a Bronze Star. After some convincing by his daughters, he shared with us how he received his Bronze Star. After the patient died, his daughters were able to reflect back on those stories and memories to find comfort."
"Everyone in our community needs us," shared Dr. Wright. "I enjoy being able to provide care and comfort to patients and families when they need it most along with my fellow team members. We all need each other and I try to give as much encouragement as possible to everyone, regardless of their responsibilities at Hospice & Community Care, because we are all working to make a meaningful difference."
Join Dr. Wright and the more than 400 Hospice & Community Care employees who are providing compassionate care and comfort to nearly 600 patients and families each day. If you or someone you know is seeking a rewarding career in healthcare, please visit www.HospiceCommunity.org/Careers today!