Back
Working for Hospice & Community Care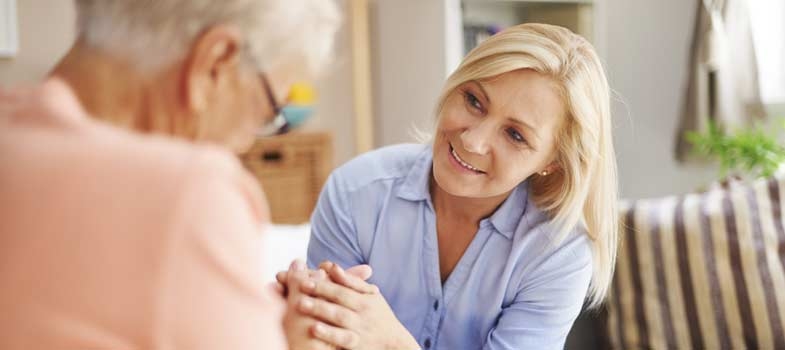 View and apply for open positions.
From comprehensive medical, dental and vision plans to wellness, continuing education and financial benefits, Hospice & Community Care employees enjoy an excellent benefit package.
Workforce Development
As part of our continuing effort to provide our patients and families with the best care possible, Hospice & Community Care invests heavily in the education and training of its employees. The organization's Education Department provides training on a wide variety of end-of-life care topics, as well as practical subjects such as documentation, communication and computer skills.
Education Assistance
Full-time and part-time employees are eligible for educational assistance one year after they begin employment with Hospice & Community Care. Education can lead to an undergraduate or graduate degree from an accredited college or university or a professional designation from a national institute.  Many employees benefit each year from the organization's reimbursement of tuition and book expenses.
"Nursing at Hospice & Community Care allows me to use all my nursing arts, knowledge and skills to provide good and thoughtful care. I am able to practice autonomously in an environment supported by the many other disciplines that share in caring for our patients and families going through difficult times."  ~Gretchen Thomas, Registered Nurse, Hospice & Community Care employee since 1994
Work Environment
Everything that happens at Hospice & Community Care is based on our core values: Integrity, Teamwork, Communication and Diversity. These core values affect the way we care for our patients and families, as well as the way our employees work and interact.
Community Involvement
The staff at Hospice & Community Care is a caring, compassionate group of individuals who are proud to support not only our patients and families, but the entire community. Hospice encourages individuals to volunteer in roles outside of their profession, or on boards and committees.
Employee Benefits
Hospice & Community Care helps employees achieve their personal best at work while providing them with the security of important benefits for their family. The organization offers a full range of health, wellness, and financial security benefits.
Health Insurance for Employees and Their Families
Health Savings Account (HSA)
Flexible Spending Account (FSA)
Voluntary Dental/Vision Insurance
Short Term and Long Term Disability
Life Insurance
Accidental Death and Dismemberment (AD&D)
Critical Illness Insurance
Cancer Insurance
Accident Insurance
Other Voluntary Plans
Paid Time Off (PTO)
Generous PTO Allowance
Paid Holidays
Annual Option of Cash for a Portion of unused PTO
PTO Donation Bank
Reserve Sick Bank
401(k) and Roth 401(k) Plan
Hospice & Community Care matches dollar-for-dollar up to the first three percent and 50% of the next 1% of contributions to the 401(k) plan, after one year of service. Employees are 100 percent vested in company matching contributions after just two years of service. Multiple Investment choices are offered.
Employee Assistance Program
Hospice & Community Care understands that employees occasionally go through difficult life and family circumstances.   We provide a quality Employee Assistance Program (EAP) to help employees and their families cope with life's  challenges that occasionally come our way.  The EAP is available to all staff who are half-time or greater and it provides up to  three (3) visits per year with a licensed, trained, professional counselor.  Not only is this benefit available to the employee, but each of their immediate household family members are also eligible for up to three (3) visits per year.  These one-on-one sessions are provided through a network of counselors at absolutely no cost to the employee or family member.  The sessions are also 100% confidential and are available after 30 days of employment.
Education Assistance Program
Up to 80% reimbursement for tuition, fees, and book expenses for college-level courses
100% coverage for professional Hospice certifications
Wellness Benefits
Periodic vaccinations and health testing
Free flu vaccinations
Variety of Wellness events organized by the Employee Wellness Committee
Discounted health insurance rates for participation in Wellness events
Appreciation Activities
National Hospice Month activities
Bus trips
Holiday Breakfast
Valentine's Day cookies
Book Sale and Basket Raffle
Holiday Ham and Turkey
Service Awards
Five-year increment service recognition
Additional Benefits
AAA Membership
Dry Cleaning service available on-site
Cell Phone Discounts
Other discounted rates and memberships
"Working in hospice allows me to utilize my skills to teach, assess, intervene and most importantly be a quiet presence, to spend time with patients and families as they travel down the road of life. We get to spend time with people during one of the most intimate and personal times of their lives. It is truly a privilege to be invited to join in the care of our patients and families."  ~Steve Sensenich, RN, Supportive Care Team Leader, Hospice employee since 2001
If you have questions for our Human Resources department, please complete the form below.