Back
Rainbows Became Her Trademark – Radiating Color and Light
Olivia was young, yet a girl who knew what she wanted," commented Kelly Lynch, Olivia's mother. "Her love of color and life presented itself every time she came home with another painting or drawing of a rainbow, which has now become a symbol of how she is remembered."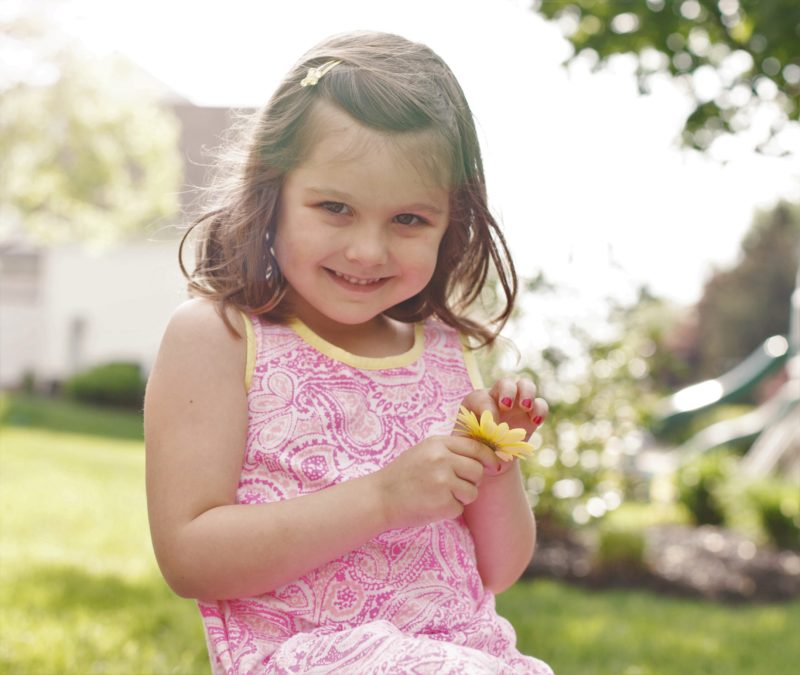 At just four years old, Olivia Lynch was diagnosed with a terminal brain and spinal cord tumor. Olivia's family chose to keep her comfortable in her own bed where this precious angel passed. "Hospice's home nurses were wonderful, especially during her final hours as we were coached through the end stages of life," shared Kelly. "Her nurse was a calm, nurturing presence."
Thanks to Olivia's godmother, Ang Sydorko and her husband, Steve, Olivia's legacy and love of rainbows will live on. Ang and Steve started the Olivia L. Lynch Rainbow Endowment Fund at Hospice & Community Care. Olivia's bright light will help bring comfort and support to other children and families who are suffering from a serious illness or needing grief support.
"Olivia's impact on our lives and all those she encountered was undeniably extraordinary for such a young age," shared Ang. "Olivia taught us life lessons that as adults we are still attempting to grasp an understanding of, she certainly knew her purpose in life; we were merely students in her classroom."
Ang and Steve wanted to create a resource to honor Olivia and help children and families facing a similar journey. "Steve and I immediately felt drawn to Hospice & Community Care after witnessing Olivia's experience," commented Ang. "Olivia and her family utilized hospice services and to witness an organization that enabled the family to focus on spending time with their loved one, honoring their end-of-life wishes, and providing support and resources that extended beyond the illness will remain forever priceless."
The couple explored their options and ultimately decided to create an endowment fund that would provide ongoing funds to support and provide opportunities for pediatric patients, their siblings, and their community.
"There was no hesitation when we selected the Olivia L. Lynch Rainbow Endowment Fund name; rainbows became so symbolic during Olivia's journey," commented Ang. Olivia loved rainbows and often expressed that love of rainbows through her art that she shared with others. "It is so fitting, all the colors of the rainbow – the joy, happiness, and hope that goes with rainbows; very fitting of Livvy's personality," shared Ang. "She radiated a colorful and kind spirit and left a sparkle in all those she encountered. In essence, it became her trademark."
The Olivia L. Lynch Rainbow Endowment Fund will support patients and families cared for by Hospice & Community Care's Sunflower Pediatric Palliative Care Program. Support will address the needs of families and provide resources for specialized care. It may also be used to support and enhance the Pathways Center for Grief & Loss' Coping Kids & Teens programs, new programming, continuing education, financial assistance for program attendees and more.
To make a gift to the Olivia L. Lynch Rainbow Endowment Fund, click here or contact Amy Lewis, Director of Philanthropy, at (717) 735-8729, alewis@hospicecommunity.org.