Back
Preparing the Future Workforce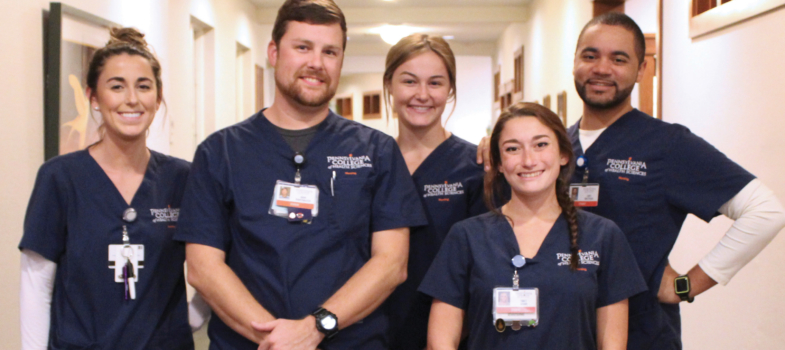 It is critical for today's future workforce to possess the skills and a sound understanding of employers' expectations. This will ensure that as these individuals enter the workforce they are equipped with the knowledge needed to start making an immediate impact on their organizations and those they serve.
To help ensure that our community's future clinicians are prepared to care for and comfort patients and families facing end of life, Hospice & Community Care has partnered with the Pennsylvania College of Health Sciences to expose their students to hospice care.
"I don't think the community understands that when an agency like Hospice & Community Care agrees to have students in their facility, it is a service to the entire community," commented Dr. Dee Minchhoff, DNP, CRNP, Program Director, Accelerated BSN and BSN Tracks, Pennsylvania College of Health Sciences. "It's a tremendous commitment for their organization, and we are greatly appreciative of the partnership."
Getting Started
Last fall Hospice & Community Care was approached by Dr. Lisa Albert, EdD, MSN, RN, CSN, Chair, Undergraduate Nursing Assistant Professor of the Pennsylvania College of Health Sciences to start a pilot program that would allow students from their accelerated Bachelor of Science in Nursing (BSN) program to get hands-on experiential learning about end-of-life care. While Hospice & Community Care has always provided opportunities for students to observe hospice care, this pilot program is unique in that it allows students to provide direct patient care under the direction of an instructor from the college and staff at The Bob Fryer and Family Inpatient Center in Mount Joy.
The accelerated BSN program is a three-year program that is fast paced and includes concept-based care—enabling the students to bring "real world" meaning to content knowledge and skills.
With the partnership still in its infancy and with its second semester underway, the program is having a significant impact on the participating students.
Making an Impact
"End-of-life care is involved in many aspects of nursing," commented Dr. Minchhoff. "When students are exposed to end-of-life care and gain some level of comfort, it can have a huge impact on how they care for their patients and interact with families."
For accelerated BSN student, Lance Whitehead, he wants to focus on ER nursing and he is certain that his experience at Hospice & Community Care will help with how he cares for his patients. "ER nursing encompasses the cycle of life – from being born to end of life," commented Lance. "Through my experience at Hospice, it will help me with how to approach each situation and help with how I guide patients and families toward end-of-life care."
"Hospice was good for us to experience regardless of our desired specialties," commented accelerated BSN student Samantha Flick, who is interested in oncology. "There is always going to be death and at Hospice they don't try to hide it or make it a secret. Instead they focus on creating a pleasant experience for the patient and family."
Dr. Minchhoff shared that students who have gone through the program have a broader perspective, are more mature and view end of life differently. "The partnership with Hospice & Community Care helps the students learn that being a nurse is not just about providing curative treatments; it's also about helping people die comfortably and peacefully," commented Dr. Minchhoff.
"As a nurse, you will always remember your first patient who passes away," shared Lance. "Shadowing at Hospice allowed me to see what happens after someone passes – how the nurses interact with the patient's family, as well as how they take care of themselves."
Take-A-Ways
"As nurses we are always taught to problem solve to keep people alive," commented Emily Moore, accelerated BSN student. "Hospice is a different type of nursing. It is focused on how to make the patient comfortable beyond medications, such as therapeutic comfort."
Samantha shared that she has learned so many things about hospice care that she will take with her on her nursing journey, but that the biggest lesson was communication. Communication plays a huge role in ensuring that patients get personalized care and comfort and that their wishes are honored.
Lance learned that end-of-life care is psychosocial. "Hospice care is more than providing medical support, it's providing emotional, financial and spiritual support to the patient and families," he shared. Nurses tend to be task oriented, but at the Inpatient Center Lance learned that he needed to focus on the bigger picture – is the patient okay? Is the family okay?"
"Overall, I had a great experience," shared Emily, who is planning to go into bedside nursing, but wants to eventually go into end-of-life care. "I didn't realize we were going to experience hospice care when I started the program." Emily's grandmother was served by Hospice & Community Care and she and her mother served as caregivers, which sparked her interest in nursing. "Everyone was great and I couldn't have had a better experience."
"I had a really good experience with the students," commented Erica Heisey, RN, Hospice & Community Care. "They were very hands-on and helpful with personal care and repositioning patients. They asked thoughtful questions about the patient's diagnosis and clinical condition. They were cheerful and did a great job of interacting with the patient."
Each of the students interviewed are graduating in May 2020. We want to wish them the best of luck on their future endeavors. We are appreciative that we could help them on their nursing journey and shed light on the importance of end-of-life care.