Back
Hospice Care – Living After the Trumpet's Call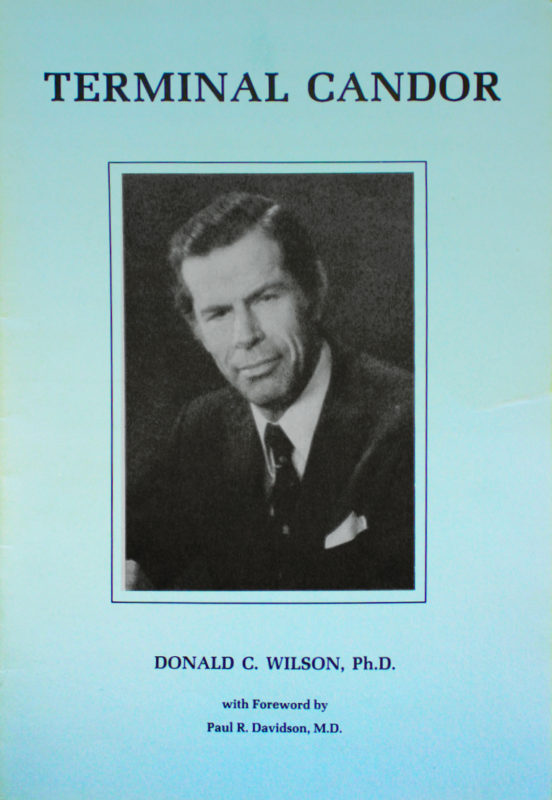 "Though the patient may be past curing, those around him or her are not past caring. In the openness of this caring context the person dying in a hospice program is led to a fresh awareness of that aspect that is still unique to being human—personal integrity.
As I came to the realization of the probable course of this illness I find myself wanting two people from one physician. I want a technical professional. That is, I want the best medical help available. Second, I want a human professional, that is, one who will deal with me not as a disease but as a human." ~Words from the Reverend Donald C. Wilson
While hospice care has evolved and changed during Hospice & Community Care's 40 years, the Reverend Wilson's vision has remained a constant guide, to treat the whole person—emotionally, spiritually, physically and with integrity.
Reverend Wilson was instrumental in spearheading the conversation about end-of-life care in the community after he was diagnosed with terminal cancer. He wrote a series of essays, entitled Terminal Candor, that were first published in Lancaster Newspapers' Intelligencer Journal. Because of his transparency during his own life-limiting illness, he helped make the topics of death and end-of-life care more accepted, resulting in the founding of Hospice of Lancaster County, now known as Hospice & Community Care. And it is a conversation that we are continuing to have and encourage, now and in the future.
Reverend Wilson wrote that the benefits to having a community hospice program would create an openness toward death, allow for patient integrity, create more family involvement, help with controlling a patient's pain, and serve as a teaching resource.
After 40 years, Hospice & Community Care has helped to enhance those benefits through its numerous programs and services. Its Supportive Care program helps to enhance a patient's quality of life while Palliative Care helps with pain and management of difficult symptoms. Hospice Care provides comfort for individuals of all ages with any serious illness who have weeks or months rather than years to live. Grief Support helps people to navigate their personal grief journey.
But, just as there are benefits or "pros" to a situation, Reverend Wilson reflected on the "cons" or obstacles that would occur if our community had a separate facility for hospice care.
The obstacles that he saw 40 years ago have now come full circle and are some of the very things that drive who we are and give us our competitive advantage.
Beyond Healing –
In an excerpt from Terminal Candor, Reverend Wilson raises the question: "When is a person medically certified as terminal, that is, beyond the possibility of healing?"
Hospice & Community Care is now part of the continuum in our community's medical care, and plays a vital role in assessing end of life and providing the needed care. As Reverend Wilson put it, "hospice care is a specialty in the medical community." It is similar to oncology and cardiology. We work collaboratively with area hospitals and physicians to ensure that when an individual is coping with a serious illness or facing end of life that hospice care is recommended.
Financial Limitations –
"With medical costs soaring and present bed occupancy below capacity, it is not justifiable to siphon off potential funds to establish a separate physical facility for the limited number of terminally ill," another obstacle raised by Reverend Wilson in Terminal Candor.

Reverend Wilson's concern is one that, today, makes Hospice & Community Care unique and stand out as an industry leader. Financial limitations do not factor in to the level of care and comfort that we provide to our patients and families. Hospice & Community Care does not turn anyone away based on financial circumstances. In fact, we serve more than 550 patients a day in their homes, in senior living facilities, at the hospital and in our Inpatient Center. Through our relationships with local hospitals and through increased awareness about end-of-life care over the last 40 years, the number of people accessing hospice care continues to grow.
Reverend Wilson was concerned about the health insurance and Medicare landscapes.
The Medicare Hospice benefit which was enacted in 1982, pays for hospice and end-of-life care provided by a hospice program. Private health insurance may also provide coverage for people facing end of life. However, when specialized equipment or medications are not reimbursed by Medicare or insurance, the generous support that Hospice & Community Care receives from the community helps to offset those costs. The support from our community over the last 40 years has been amazing.
Standards for Admission –
There are certain medical criteria that a patient must have in order to receive hospice care. Those range from an increase in pain, nausea or breathing distress, to repeated hospitalizations or trips to the emergency room. Hospice & Community Care's team of trained clinicians visit with each patient who is seeking our services and assesses if they are indeed ready for our care. A patient's financial circumstances are not factored into whether they are ready for hospice care.
Symbol of Reproach –
Reverend Wilson was concerned that having a hospice program would indicate that the hospitals and senior living facilities were not doing a good job at caring for patients or residents at end of life.
That is not the case. Today, Hospice & Community Care collaborates with local hospitals and senior living facilities to compliment the care provided to patients or residents. Hospice & Community Care's goal is to support these organizations and their dedicated staff in providing the best care possible for their patients and residents at end of life.
Thank you to Reverend Wilson for his willingness to share his perspective on end-of-life care through the lens of a person facing his own mortality. He helped to shape the organization that Hospice & Community Care is today.
See the May issue of Horizons for a continuation of this article.