Back
Educating Classmates and Teachers about Grief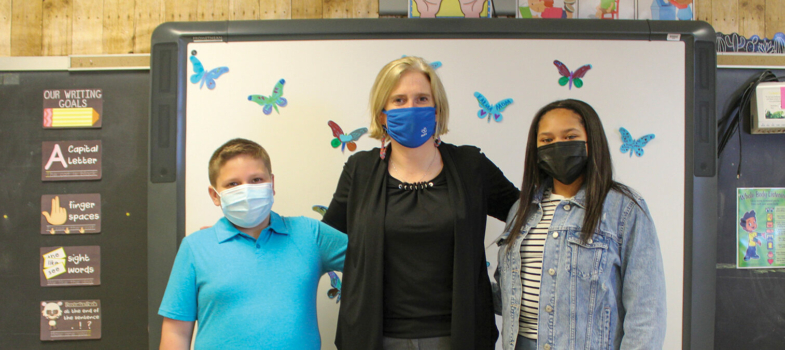 By the age of 25, 13.2 million youth nationwide will have lost a family member and one in 14 children will experience the death of a parent or sibling by the age of 18, according to Judi's House/JAG Institute in Colorado. In Pennsylvania, 532,000 youth will be bereaved by the age of 25 with one in 12 children experiencing the death of a parent or sibling by age 18. For two students at Smoketown Elementary in the Conestoga Valley School District, Avaah and David, they are using the unexpected deaths of their loved ones to help grieving classmates.
Avaah is in sixth grade and lost her father in 2015, and fifth grader, David, lost his younger brother in 2017. Those losses had a profound impact on them. Avaah and David had, and continue to have, the support of their family, school counselor and the Pathways Center for Grief & Loss, a program of Hospice & Community Care. Avaah and David participated in the Pathways Center's Coping Kids & Teens program, and David also participated in the Center's overnight grief camp.
Between 2014 and 2021, there were approximately 40 Smoketown Elementary School students who had experienced the loss of a member of their household – a parent/guardian, sibling or grandparent who lived in the child's home or served as their primary caregiver, according to Beth Sharp, Smoketown Elementary School counselor. When Beth was new to the school in 2014 and welcomed three kindergarten students who had lost their fathers, she knew something needed to be done to help those students. She then learned of the many other losses as she got to know Smoketown students and families.
Through her membership with the Lancaster County School Counselors Association, Beth learned about the Pathways Center for Grief & Loss and its grief services for children and teens. "I reached out to the Pathways Center to see if their bereavement counselors would be available to help us lead a grief group for students," shared Beth. The Pathways Center offers "Train the Trainer Good Grief Clubs"— a grief support series for students affected by the death of a loved one and co-facilitated by school personnel and Pathways Center counselors.
During the 2016-2017 school year, Beth and Pathways Center counselor Sonya Hershey-Velasco collaborated to run an in-school grief program for elementary-aged students. "Shortly after the grief groups started, my father passed away," shared Beth. "I initially thought that I may need to step away from co-leading the grief group, but I found that I was benefiting from the group, too. I felt supported by Sonya throughout the entire process and could relate on a different level with the participating students." Beth and three of her colleagues continued to be trained by Pathways Center staff so that they could eventually facilitate the groups independently while still using the Pathways Center's curriculum as a guide.
At the beginning of 2020, Smoketown Elementary introduced an after-school grief program for both students and their parents/guardians. Attendees met together before dividing into separate groups where children learned how to cope with the loss of their loved one and parents learned how to help their child(ren) cope. After only two weeks of the program, the community was impacted by the Coronavirus. "We tried to offer the group virtually at the beginning of the pandemic, but it did not work," shared Beth. "Parents and students were focused on navigating remote learning at that time."
But Covid-19 could not stop the students from doing something. "I was working on my goals for the semester and came across a website promoting Children's Grief Awareness Day, which I was not familiar with," shared Beth. "I thought this would be a great way to engage the grief group. I asked eight students from fifth and sixth grades to be part of the planning committee."
The students spent time brainstorming different ways that they could educate their classmates and teachers about grief. Their hard work paid off. Every class in the school either watched a video created by planning committee members and/or had a classroom lesson with Beth and her intern, Michael Rouse, which included a read-aloud of The Invisible String. The book is a story about how all people and pets are connected by invisible strings of love.
Other activities included every Smoketown student and staff member personalizing blue butterflies with the names of loved ones and messages of hope. The butterflies were on display "flying" throughout the school. Additionally, the Smoketown community wore blue on Children's Grief Awareness Day, November 19th, to honor their loved ones, and made coin donations to the Pathways Center for Grief & Loss, raising more than $800.
Avaah wanted to be a part of the Children's Grief Awareness Day committee to "Let everyone know that she lost family members, too, and that it is common to lose someone. People who are grieving do not need to hide it or stuff it down within them."
"My advice to anyone who is grieving is that you're not alone," shared David. "Find people who you can talk to and who can grieve with you." "By opening up and talking about your loss, you can get more support than you may have thought," shared Avaah.
"I have seen such growth and a sense of empowerment in many of the students who have been part of the grief support groups since they began in 2014," shared Beth. "They are more confident, more accepting of their circumstances, and more comfortable talking to others."
Both Avaah and David shared that they, too, have seen growth in themselves since starting the grief programs at school. They said that they have more confidence.
Avaah and David have no plans of stopping once they reach seventh and sixth grades respectively. "I want to start a grief group in middle school to help other teens feel more comfortable being open and honest with their emotions," shared Avaah. "I want to re-start the after-school program where kids can meet with Ms. Sharp to discuss how they are doing," shared David. "It would be great to get to know other students from different grades who are also grieving."
Just like the students, Beth is hoping that the grief support program can expand beyond Smoketown Elementary and become implemented district-wide. "I never imaged how many doors this program would open for us," shared Beth. "This became such a large project with many rewards."
Coping Kids & Teens
The Pathways Center for Grief & Loss supports the needs of children, teens and families impacted by serious illness and loss through group and individual grief support services. The Coping Kids & Teens series helps participants learn about loss, develop coping skills and build self-confidence through fun-filled activities and opportunities for small- and large-group sharing in a safe atmosphere. The Pathways Center offers the area's most comprehensive grief education and support for bereaved individuals. Master's-level grief counselors provide individual and family counseling for children, teens and families to help them effectively support each other and cope with serious illness and/or loss. Services are available in Mount Joy or York (adhering to all of the Center for Disease Control recommended guidelines). For more information, visit www.PathwaysThroughGrief.org or call (717) 391-2413 or (888) 282-2177.