Back
General Inpatient Care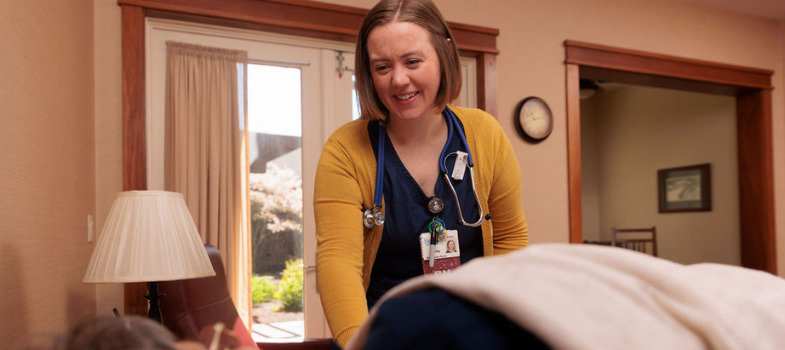 General inpatient care is short-term, and similar to an acute hospital stay, when patients' symptoms require physician intervention, frequent nursing assessment, medication adjustments and the help with managing difficult symptoms, such as pain, nausea or agitation. Once symptoms are managed, plans are made for the patient to return home or to a skilled care facility.
The Inpatient Center has 24 private patient rooms and is designed to be a home away from home with bright, comfortable private rooms and plenty of space for family and friends to gather. The Inpatient Center is open 24 hours a day for visitors, and features living rooms and fully equipped kitchens so patients and their families can spend time together in a pleasant environment.
If you or your loved one could benefit from care provided at the Bob Fryer & Family Inpatient Center, call us at (717) 391-2421. There is no obligation to receive information.
What is General Inpatient Care?
This level of care is typically offered when symptoms cannot be managed at home, with patients often returning home once symptoms are resolved. Some of these circumstances include pain, shortness of breath, nausea, advanced wounds, agitation, restlessness, and constipation.
How do you care for the caregiver, as well as the patient?
Becoming a full-time caregiver is both rewarding and sometimes challenging. At times, loved ones may feel overwhelmed or fatigued in this new role. While honoring a family's preference to receive care at home, there may be times to consider the Inpatient Center as a temporary alternative to being at home.
What are the additional benefits of the Inpatient Center?
In addition to providing a high level of medical care for patients, the Inpatient Center provides the day to day caregiving to allow the family to focus on spending quality time with their loved ones. Our goal is to create an environment where patients and families can spend quality time together. We welcome families to gather for a meal in our family kitchens; nearby restaurants are also available. Patients have access to food in our kitchens.
Families also have access to a kiosk with a computer, Internet, and a printer in the living room of each wing. Families may connect to the Internet with their own devices.
Should I be concerned by the distance to the Inpatient Center from my house?
The Inpatient Center is centrally located off Route 283, approximately 15 minutes from downtown Lancaster, 30 minutes from Ephrata and 35 minutes from York. With 24/7 visitation, the Center is designed to be a home away from home with private rooms with home-like amenities, making it possible for family members to come when it's convenient for them. Family members are welcome to stay the night in the patient's room.
Isn't the Inpatient Center a place patients go to die?
Patients often return home following a stay once their symptoms are under control. The vast majority of hospice care is provided at home. The purpose of inpatient hospice care is for short-term care to address challenging symptoms, such as pain and nausea.
Do patients get billed for using the Inpatient Center?
Care provided at the Bob Fryer & Family Inpatient Center is covered in full by Medicare, Medicaid and most private insurance. We will work with families to determine any costs associated with an inpatient stay.
What happens if I promised my loved one they could die at home?
Our team works collaboratively with patients, families, and the home hospice team to meet patients' goals. Patients can return home at any time during their inpatient stay. Our goal is to manage a patient's symptoms quickly and coordinate a plan to return home.
Is there a limit to how many times I use the Inpatient Center?
No. There are times when patients may have symptoms requiring multiple inpatient stays. Additionally, patients can use the Inpatient Center for caregiver breaks on an occasional basis. We work to make it a seamless transition between settings.