Back
Bob Fryer & Family Inpatient Center
Visitor Restrictions
For the safety of our patients and families, the staff caring for them and all the visitors to our facility, Hospice & Community Care has placed some Visitation Restrictions in effect.
Visitors are only permitted if they answer "no" to all the following questions:
Are you experiencing or have you experienced within the past 14 days any of the following symptoms?

Fever
Cough
Shortness of breath

In the last 14 days, have you had contact with someone with the above symptoms?
In the last 14 days, have you had contact with someone diagnosed with or under investigation for COVID-19?
Do you reside in a community where community based spread of COVID-19 is occurring?
Have you traveled to any of the following countries within the past 14 days?
China
Iran
Italy
South Korea
United Kingdom
Ireland
Most countries in Europe
Visitors are limited to two per patient at any one time.
If you arrive with more than two visitors, we ask that you please take turns visiting.  Those not visiting are to remain outside of the facility away from the doors.
Visitors are limited to the patient's room.  Please do not access the kitchen or other public areas of the facility.  Our staff will be happy to assist you in any way possible.  We ask that you please speak with a staff member if you have any questions.  Thank you.
The Bob Fryer and Family Inpatient Center
Although most people prefer to stay at home, patients may need another level of care
to manage pain or other symptoms. Care is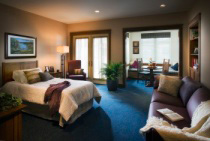 available for patients and their families at the Bob Fryer & Family Inpatient Center. Inpatient care is generally short-term and patients return home when symptoms are managed.
The Inpatient Center is designed to be a home away from home with bright, comfortable private rooms and plenty of space for family and friends to gather. The Inpatient Center is open 24 hours a day for visitors, and features living rooms and fully equipped kitchens so patients and their families can spend time together in a pleasant environment.
Features include:
A rural setting with serene gardens and pathways
Brightly decorated home-like rooms with space to display personal items and mementos
Each room features a private bath, reclining chair, comfortable couch and a patio for the increased comfort of patients and families
Three wings that invoke a tranquil atmosphere, each wing featuring a kitchen, terrace, living room with television, patio and screened-in porch
Private spaces including a meditation room, counseling rooms and library
Internet access and wireless capabilities for families' convenience
The Bob Fryer & Family Inpatient Center is located at 4075 Old Harrisburg Pike, near Mount Joy.  Click here for directions.
For more information about the Inpatient Center, call (717) 391-2421.