Back
Sunflower Pediatric Program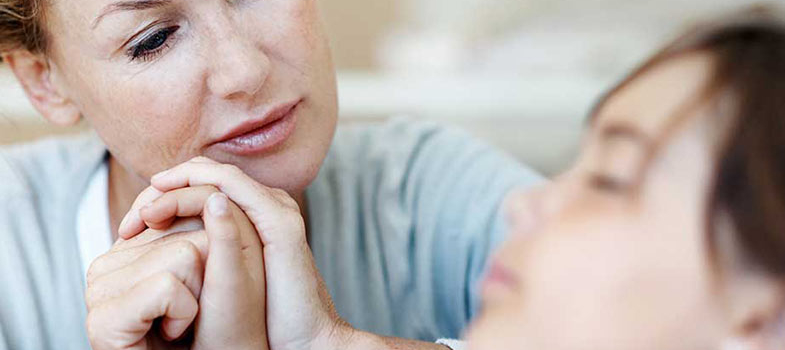 Sunflower Pediatric Program
Hospice & Community Care's Sunflower Pediatric Program delivers hospice care through a specialized interdisciplinary team to meet the needs of children and teens living with serious illness and their families.
The Sunflower team works alongside the child/teen, family, and the child's/teen's community-including their existing healthcare team—to develop an individualized care plan to effectively manage pain or other distressing symptoms—and provide psychosocial and spiritual support for the child/teen and family, including parents, caregivers and siblings.
"As a nurse and physician, at the Clinic for Special Children, we appreciate the services Hospice & Community Care provide. The staff has been very responsive to our patients needs when a referral is made. We have found them to be culturally sensitive, committed to patients and we look for opportunities to work together to meet the needs of families who have the difficult journey of caring for children or adults with special needs who reach end of life."
~ Keturah Beiler RN, BSN Cherished Lives Program Manager and
Vincent J. Carson MD Clinical Operations Director from The Clinic for Special Children
Care can be provided within a child's/teen's home, in the hospital or long-term care facility, or at Hospice & Community Care's Bob Fryer & Family Inpatient Center.
The Sunflower team serves patients and families who live in Lancaster and York counties, as well as parts of Berks, Chester, Cumberland, Dauphin and Adams counties.
The Sunflower team includes an on-staff Hospice & Community Care physician, who has a specialty in hospice and palliative medicine; RN; LPN; social worker; chaplain; grief and bereavement specialist; and massage and music therapists. The physician is able to provide hospice and palliative care consultation in the home, hospital or long-term care facility. Trained Hospice & Community Care volunteers are available to provide respite care to caregivers. Meet the members of the Sunflower team.
The child's/teen's primary physician and/or specialist remains actively involved in the care that the Sunflower team provides to their patient. These clinicians may be part of the Sunflower team's biweekly interdisciplinary team (IDT) meetings and/or participate in joint in-person or telehealth visits with Sunflower team members as they are able.
The Sunflower team supports a child's and family's goals for the future and improving quality of life. Team members are respectful of patients' and families' personal, cultural and religious values, beliefs, and practices.
The Sunflower team also supports patients and their families through all stages of bereavement, including anticipatory grief, crisis work immediately surrounding time of death, and post-death counseling for parents, siblings, and other members of the child's community. Bereavement resources are available through Hospice & Community Care's Pathways Center for Grief & Loss.
Hospice & Community Care has been caring for children and teens since 1980. If your patient is experiencing any of the following triggers, please contact Hospice & Community Care's Sunflower Pediatric team at (844) 422-4031 to discuss whether hospice, or hospice with concurrent care, may be appropriate.
"I was asked 'why now?' for hospice care. The answer is hard to put into words. Peace. I want my son to die peacefully. Hospice & Community Care helped me to let go of 'nurse mommy' and be just mommy. I am truly thankful. Having a pediatric doctor available for home visits and nurses that understand kids is beyond helpful. They work hand in hand with [other pediatric programs] which is a dream come true because we already have a trust built in the hospital." ~Jean, Patient Family