Back
Pediatric Palliative Care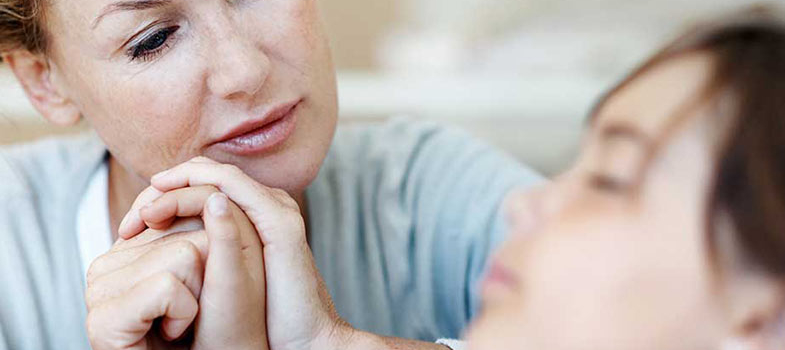 Sunflower Pediatric Palliative Care
When parents find themselves faced with the serious illness of their child, difficult days, months and sometimes years can be filled with anxiety and sadness. Hospice & Community Care's Sunflower Program offers specialized pediatric palliative care to provide comfort and support during this most challenging time. Pediatric palliative care can be provided together with curative treatment, providing optimal comfort and symptom management during active treatment.
Hospice & Community Care has been caring for children and teens since 1980. Care is available at any stage, whether the illness is curable, chronic or life-threatening, and can be provided across all care settings whether at home, the hospital or at Hospice & Community Care's Bob Fryer & Family Inpatient Center.
Hospice & Community Care's Sunflower Program focuses on providing:
the best possible quality of life for children
management of pain and other difficult symptoms
compassionate emotional and spiritual support for the entire family
Care is closely coordinated with the child's health care team to create an individualized plan of care. Hospice & Community Care's team includes physicians, nurses, social workers, chaplains, hospice aides and volunteers, who have received specialized training in caring for the unique needs of seriously ill children. Bereavement counselors, who are specially trained in supporting kids, siblings and their families both before and after a loss, are available through our Pathways Center for Grief & Loss.
The goal of the Sunflower Program is to provide skilled and compassionate physical, emotional and spiritual support to children of all ages with any serious illness. The focus is on achieving the best possible quality of life for children struggling with a serious illness, with full support provided to the family, including siblings, extended family, and caregivers.
"Through those rare times when a child faces death, I know that Hospice & Community Care has the pediatric hospice and palliative care staff to comfort and support the patient, the family and the doctor." ~ Dr. Steve Killough, MD, Lancaster Pediatric Associates
For more information, call (717) 391-2421 or (844) 422-4031.